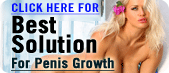 Rated:
9.5

out of

10


by

PenisGrowth.com
Vivaxa is not marketed as a penis growth cream; it is a male desensitizer, which prevents men from having premature ejaculations. The producers of Vivaxa climax delay cream claim that 88% of women want more staying power from their men. With that in mind, this product is geared more toward satisfying a woman's needs - it does not increase sexual pleasure for the male user.
The makers of Vivaxa do run specials on this product - around $160.00 for six bottles. If you are interested in a desensitizer rather than a penis growth cream you can visit: www.vivaxa.com
Ingredients in Vivaxa
Unfortunately the ingredients in Vivaxa seem to be a bit of a mystery. The producers of Vivaxa do not give you a list that tells you what the active ingredients in the product do to desensitize your penis. They do inform you that they have a combination of ingredients that includes Peptide 171, which improves erection performance and a skin calming ingredient, Calmosensine™.
How to Apply Vivaxa
Vivaxa has a recommended "initial integration phase" - similar to Maxoderm. As a matter of fact, this product and Maxoderm are created by the same company. The phase entails applying this lotion four times in week one, six times per week in weeks four through six and three times per week in weeks eleven through twelve.
Does Vivaxa Work?
If you are in the market for a desensitizer rather than a penis growth formula Vivaxa may work for you. Although, it is a bit troubling that the producers of Vivaxa don't have a list of ingredients along with an explanation of what those ingredients do. Smart consumers are skeptical, especially when dealing with herbal formulas or all natural products, when a producer is not up front with the ingredients.
With that in mind, you should contact the makers of Vivaxa and inquire about a detailed list. If not, research other products and be certain to find out the active ingredients in their desensitizers. Read the review of our top rated climax delay cream, Climaxagen.
Editors Choice
See which product is our choice for climax delay cream