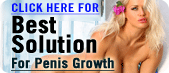 Rated:
9.25

out of

10


by

PenisGrowth.com
The producers of Maxoderm penis growth cream claim that their product will maximize sexual sensation and give you a firmer and more erect penis. It should work in less than 60 seconds, and it is marketed as a "targeted" penis growth cream.
The cost of three bottles of Maxoderm cream is approximately $150.00. The manufacturer does run specials on this penis growth formula but it usually entails adding their pill product to the order. You can find out more by going to www.maxoderm.com
Ingredients in Maxoderm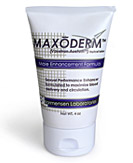 The ingredients in Maxoderm cream are not instantly on display. You do have to rummage around the website a bit to find them. When you do find the ingredients you will notice a variety of other things in this product besides the active penis growth herbal formula.
The effective ingredients in Maxoderm include: L-Arginine, Methyl Nicotinate, Muira Puama, Panax Ginseng, Catuaba, Maca, Nettles, Zinc and Menthol.
Complete Maxoderm ingredients: Water, helianthus, annus (sunflower) seed oil, glycine soja (soy) bean oil, stearic acid, sodium bicarbonate, citric acid, methyl salicylate, cetearyl alcohol, aloe, barbadensis leaf juice, camellia sinensis (green tea) leaf extract, l-arginine, panax ginseng extract, muira puama extract, lamium album (white nettle) extract, serenoa serrulata (saw palmetto) fruit extract, lepidium meyenii (maca) root extract, erthroxylum catuaba extract, rosmarinus officinallis (rosemary) leaf extract, citris grandis (grapefruit) seed extract, lecithin, methylparaben, propylparaben, tocopheryl acetate (vitamin E), ascorbyl palmitate (vitamin C), zinc oxide, methyl nicotinate, xanthan gum, fragrance.
Applying Maxoderm Cream
The producers of Maxoderm cream recommend an "initial integration phase". This means that you should be applying a quarter size amount of this male penis growth cream four times in week one, six times per week in weeks four through six and three times per week in weeks eleven through twelve.
This regimen seems a bit odd compared to the competition, and there many not be many people having sex four or six times in a week - but who knows? The Maxoderm cream producers recommend self-pleasuring to aid the products effectiveness.
Does Maxoderm Cream Work?
It would be helpful if the producers of this penis growth cream provided an explanation of what the active ingredients did for the user. The other ingredients may also be viewed as fillers, which are not necessary for the cream to work. Also, the "integration phase" may put some people off. The "self-satisfying" element could be too much work and it does take up time during a busy day. Learn more about how Maxoderm works.
Editors Choice
See which product is our choice for best penis growth cream and oil!