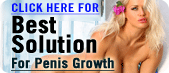 Rated:
7.5

out of

10


by

PenisGrowth.com
For any serious bodybuilder there's nothing more important than getting every ounce of benefit out of each and every workout session. To do that, they know that they need to maximize the nutrient and oxygen flow in the bloodstream to feed the hungry and stressed muscle groups. That's why they take supplements that provide the raw essential elements necessary to achieve those goals. And, that's why, with all the different products on the market, the most savvy bodybuilders have to do their research in order to make sure they are choosing the right supplement. This brings us to the topic of today - Nitrox II. We decided it was time to see if this new entry into the bodybuilding supplement market has made any significant improvements over the original.
Inside Nitrox II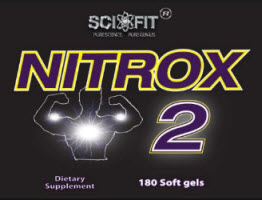 Nitrox II is manufactured by the SCIFIT, a recognized producer of supplements with a pretty fair reputation for quality in the past. Its original version Nitrox drew significant attention when it first hit the market several years ago based on a strong formulation of essential and nonessential ingredients and now they have set out to top that. Unfortunately, the company later had a number legal issues and battles with the FDA that, apparently, remain unresolved. Putting that aside, we will look at the actual formulation and make a determination of how it stacks up against the leading competition. In a simple comparison between the original Nitrox and Nitrox II the clear difference is not in the formulation but rather in the simple addition of ingredients. Given that, it's plain to see that what we are dealing with here is not something new but, instead, something with a few more added bells and whistles.
At their core, Nitrox and Nitrox II are designed to boost the levels of Nitric Oxide in the bloodstream in order to facilitate the transportation of nutrients and oxygen through the bloodstream to maximize the intake of these critical resources to increase the size and speed the growth of lean muscle mass. Two of the key elements used to produce this effect are Citrulline Malate and AKG (Arginine Alpha-Ketoglutarate) which are natural compounds known for their properties of boosting the production of Nitric Oxide in the blood stream. As with all chemical processes the Citrulline is used to ignite the power of L-Arginine which, in turn, acts as the basic catalyst for the increased production of Nitric Oxide.
In addition to these two key elements there is L-Taurine, a synthetic compound known for its ability to increase stamina and endurance that help the user reach their full potential in every workout session. Another addition to the mix is Alpha Lipoic Acid, which has a reputation for enhancing the bloodstreams ability to speed the delivery of nutrients and oxygen to the muscles.
At the heart the changes made to these common key elements and additions is SCIFIT's claim that they have created a proprietary PH delivery system that enhances and regulates the introduction of nutrients and oxygen to the muscle groups.
One of the most attractive aspects of Nitrox II is the fact that it is presented in the form of sot gel tablets for easy digestion - especially when taken with recommended levels of water consumption. The two tablets per day dosage is considered standard among products of this nature and are consistent with most competitors' dosage requirements. The fact that Nitrox II is sold online for $64.99 per bottle through SCIFIT's official website is convenient but some would also consider it a negative in the sense that we could not find it available through any other online or brick and mortar retail outlet as this is often an indicator that the product is not desirable to independent sellers. And, considering the ongoing problems the sellers of Nitrox II are apparently having, one could take these limited retail options as a sign of larger problems.
User Reviews
The SCIFIT official website offers many glowing user reviews for Nitrox II but since it is clear that SCIFIT is hardly an unbiased source we took an extensive look at what more independent sources had to say. Ultimately, what we found was not overwhelmingly impressive given wide reach this product has had. What we found was that there are numerous sources for independent user reviews and the vast majority of them seem to lean toward the negative side. Apparently, the consensus among these independent reviews is that Nitrox II simply does not deliver on its claims. Even users of the original Nitrox seemed to prefer that over this next generation product.
Side Effects
Going back to the legal issues SCIFIT has had with these products it's a little difficult to understand why these problems exist. We could find little verifiable evidence that there are any significant health problems of related side effects described by actual users. In light of this the only reasonable conclusion is that there must be some type of discrepancy in the formulation that has caused some kind of red flag to appear.
Our Conclusion
Back at the beginning of this article we made the point that there is nothing more important to a serious bodybuilder than getting the most out of each and every workout session. And, to do that one must take advantage of every means to make that happen. From choosing an outstanding dietary regimen to being diligent about getting proper sleep to choosing the right kind of supplement, every choice is a step closer or further away from achieving maximum efficiency in their workout.
Given that there are hundreds if not thousands of bodybuilding supplements on the market today that make a lot of claims and use a wide variety of formulation it can be quite difficult to sift through all those choices. Also, being that these many supplements seem to focus their claims on a number of different approaches to achieving the ultimate goal it can be hard to figure out if what you need is one supplement or multiple formulas to cover all the bases. That's something every individual consumer has to figure out for themselves and, as always, it would be wise to consult with a qualified medical professional before taking or combining and supplement.
In the end, the focus today has been on Nitrox II and when we pull all the available information together what we find is that Nitrox II does not appear to be any kind of real improvement over the original. And, considering the many negative independent user reviews, many of whom said that they actually preferred the original over the new version, it's not hard to see that Nitrox II is not among the highest levels of bodybuilding supplements.
For more information on a list of the top tier bodybuilding supplements, click here.