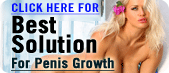 Rated:
7.5

out of

10


by

PenisGrowth.com
The male enhancement market is filled with hundreds of products. So much so, that it's often very difficult to survive in the market. That's one reason why so many of these products come and go, often with little notice. Still others are removed from the market because they contain ingredients that have been shown to cause serious side effects. And still there are others that, through positive reports and testimonials have proven to work well, are reasonably priced and true to their word. Is Longinexx one of these?
What is Longinexx?
Created by Dartford Kent Labs, Longinexx is a recent addition to the market for all natural male enhancement products. Thanks to its exclusive Rapid Expansion Technology, its manufacturer claims that it has the #1 rated male enhancement formula which, according to those claims, will produce all the key benefits one would look for: bigger and harder erections, improved endurance and stamina and an overall improvement of the sexual experience.
What's New About This Supplement?
The exclusive Rapid Expansion Technology supposedly adds something not seen before in the market - an improved delivery system based on the use of nitric oxide. The key feature of this system is that it has a two part delivery system - first releasing the primary ingredients for maximum absorption before releasing the secondary compounds.
Acting as a potent vasodilator, this system first delivers the all-important L-arginine-hydrochloride, which is an essential amino acid needed for the production of nitric oxide. This allows blood to flow freely to the membranes of the penis because it relaxes the blood vessels. All this is what causes the penis show increases in girth, hardness and size. A drawback to this is that L-arginine and nitric oxide both have trouble creating a sustained erection because of their notoriously short lifespans. That is why Longinexx's Rapid Expansion Technology employs this timed release method of L-arginine.
Longinexx Ingredients
Additional ingredients in Longinexx:
Butea Superba: A Thai aphrodisiac thought to be effective in boosting sexual vigor and youthful energy
Tribulus Terrestris: Used to boost testosterone levels to enhance libido and improve muscle building
Cnidium Monnier: Also thought to help boost testosterone levels and improve erections
Yohimbe: An over-the-counter aphrodisiac that is also used to help with erectile dysfunction
Long Jack: A Malay-based aphrodisiac that can potentially boost testosterone levels
Pros
A set of all natural ingredients in sufficient quantities.
An interesting new delivery system - Rapid Expansion Technology.
Enhanced penile erection, sexual performance, and total endurance capabilities.
Claims that it is "scientifically proven" by an independent study.
100% Money Back Guarantee.
Reasonably priced when compared to other supplements currently on the market.
Significant discounts for bulk orders.
Cons
Though they claim results based on independent studies they offer no evidence.
At the time of publication there is very little information available on its website (a previous version of their website was taken down).
There is supposedly a patent held for Butea Superba by a rival company (Zyrexin).
There are a number of inconsistencies in the information provided. Example: though Longinexx was created by a UK-based laboratory the product is said to made in the USA.
Longinexx is only available online.
Longinexx: Sexual Stamina Ratings
It is easy to find a great number of reviews and testimonials claiming that Longinexx is simply the greatest male enhancement product these users have ever come across. Still, the evidence that these reviews are accurate is in question. The overall consensus is that Longinexx is in the middle of the pack when it comes to product performance.
Potential Side Effects of Longinexx
Longinexx, like many other products, claims to have no side effect based upon their listing of all natural ingredients but, as is often the case, these claims assume that the labeling is 100% accurate. And, as any savvy supplement user knows, that is not always the case. As mentioned earlier, Yohimbe extract is said to cause a number of symptoms including: heart palpitations, blood pressure irregularities, breathing difficulties and minor stomach distress. Also, supposedly all natural herbal supplements carry the risk of allergic reactions for susceptible users.
Expert's Advice on This Supplement
When considering the use of any male enhancement product including Longinexx it would be wise to consult with a physician knowledgeable in the field. Patients with conditions such as heart disease or those using blood pressure or anticoagulant medications may be dissuaded from using male enhancement products all together. It is also recommended that any user be aware of any allergies they may have in order to prevent sudden or severe allergic reactions to these types of products.
Considering all that, one should be sure of the source of any supplement. The official Longinexx website prices a thirty day supply and $39.99 with savings that grow larger after every purchase. Of course, there are other options for purchasing, again, online only, but one should always make sure they can trust whatever source they are considering.
Our Conclusion
Guarantees and grand promises are always intriguing and Longinexx has plenty of those. What they lack is a sufficient amount of credible information and testimonials from independently verified users to back up those claims. Our overall rating for this product is no better than a B+ despite its pluses and relatively affordable pricing structure. We see no real reason not to try it but, if you want to go with the best available supplement on the market today you can do a lot better. The final word: No one ever won the gold when reaching for the silver.
For information on the top rate male enhancement products click here.