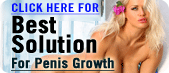 Rated:
9.25

out of

10


by

PenisGrowth.com
Slap Happy is sold as a male masturbation cream, with no claims as to penis growth or other male enhancement capabilities. Slap Happy cream is designed for use alone or with a partner. The product's website lists a number of advantages and features, including:

•
A velvety soft texture;
• Non-irritating formula;
• Won't clog pores;
• Slipperiness with less friction;
• A deliciously sexy smell;
• A creamy, smooth feel;
• Product won't dry out;
• Not messy;
• Product is long lasting;
• Safe for daily use.
Slap Happy Ingredients
The specific ingredients are not listed on Slap Happy's website. Under the Terms and Conditions section, there are several general herb safety guidelines paragraphs; they list over one-hundred and sixty different herbs, which may be ingredients in parent company Healthbuy's various products, including Slap Happy cream.
Buy Slap Happy
Slap Happy masturbation cream is available in quantities of one bottle for $19.95, four bottles for $59.85, and six bottles for $79.80. Shipping and handling charges in the U.S. range from $6.95 for one bottle to $10.95 for six bottles; international shipping ranges from $19.95 for a single bottle to $29.95 for six bottles. There is an additional charge of $2.95 for guaranteed delivery. The website notes a promotion to receive two free jars of Slap Happy, but no details are provided. Acceptable payment methods include Mastercard, Visa, American Express, Discover; Google checkout and Paypal may also be used for payment. Slap Happy comes with a 90-day return policy; unused and unopened product may be returned within 90 days of the purchase date for a full refund, less a $10 restocking fee for each bottle. An auto-ship option is available; by signing up for this feature, customers can receive monthly shipments at no charge for the product if they agree to pay for shipping and handling.
Does Slap Happy work?
As the specific ingredients are not listed, it is impossible to determine if Slap Happy cream works from its formulation, but since it is only billed as a masturbation cream, it is likely that it accomplishes this task. Three customer testimonials on the website attest to satisfaction with the use of Slap Happy, but no scientific evidence is presented. For the price, Slap Happy is a bit expensive for just a masturbation cream; it would be more cost-effective to use regular hand or body lotion, or to choose a different lubrication product which offers the additional benefit of proven results in male enhancement effectiveness. Products such as Erexanol do not just offer a silky smooth texture, but they also contain natural ingredients which increase pleasurable sensations and enhance firmness and virility, as well.