There is not valid proof that using pure testosterone is effective for achieving penis growth.
On the other hand, testosterone may produce other effects such as improved male sex drive, virility and better sexual performance.
Prescription for Testosterone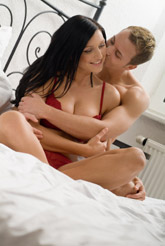 These are some of the prescriptions for testosterone on the market today: AndroGel, Androderm, Testoderm, with Testim 1% and Striant as the newest brands of testosterone. Prescriptions for testosterone can come in the form of a gel, skin patch, injection and pill form. Some doctors use these types of testosterone in a testosterone therapy for men that are lacking this hormone. Some companies that sell prescriptions for testosterone claim that it aids in boosting male sex drive but that does not mean the FDA has approved these applications for that use.
Natural Sources of Testosterone for Penis Growth
Natural sources of testosterone contained in penis growth pills will safely and naturally boost the body's production of testosterone.
Muira Puama: There is some research that claims Muira puama is one of the better herbs to use for erectile dysfunction or lack of libido. It helps free and replace testosterone in the body. It can improve the libido and sexual function in some men. It has long been known to be an aphrodisiac.
Maca: The root extract of this plant is known to promote endurance and increase energy, vitality and sexual virility. It is supposed to increase testosterone levels in a natural and safe manner.
Epimedium: This herb has been known to expand capillaries and other blood vessels, which increases the amount of blood that rushes to the penis area, thus improving the quality of erections. Epimedium also stimulates the production of male sex hormones such as testosterone.
Tribulus Terrestris: Also known to increase the amounts of testosterone in the body, Tribulus Terrestris is said to increase the libido, improve sexual performance and improve the quality of an erection.